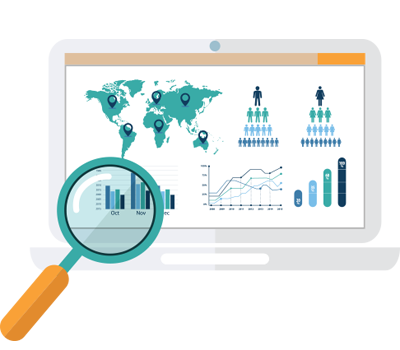 Are your email marketing results below expectations?
Using email to promote your institution is the ideal solution for continuous communication with your students and subscribers. At Latigid, we plan email marketing strategies focused on your target audience, promoting download offers for lead generation and capture, in order to obtain the best success rates.
Our email marketing services
Database analysis and segmentation
Email marketing statistics and trends
CTR (Click Through Rate)
54% of marketers say increasing engagement is their top priority in email marketing (Ascend2016).
15% of marketers admit they do not regularly analyze open rates or clicks(MarketingProfs, 2016).
Only 23% of marketers claim to have the website and email integrated to understand what happens after a click (MarketingProfs, 2016).
Emails sent on Tuesday get the highest open rates (Wordstream, 2017).
Email content
Brands that put emojis in the subject line of their emails get better conversion rates (Forbes, 2017).
Only 9% of email subjects contain emojis (GetResponse, 2018).
91% of professionals prefer to receive communication from the companies they work with via email (Sleeknote, 2019).
Transactional emails are open 8 times more than traditional emails (Sleeknote, 2017).
Email usage
There are around 5.5 billion active email accounts worldwide (Radicati Group, 2018).
About 49% of companies use email automation technologies (Emailmonday, 2018).
Emails that are not mobile optimized tend to be deleted in less than 3 seconds (Campaign Monitor, 2018).
86% of professionals prefer to use email to send work-related content (Hubspot, 2017).
Email segmentation
42% of marketers don't send personalized emails (MarketingProfs, 2016).
83% of companies use at least basic targeting to send their emails (Econsultancy, 2016).
Email open rate is 75% higher in targeted campaigns (MailChimp, 2017).
Targeting emails by lists and individuals is considered the best form of personalization for 50% of influencers (Ascend2, 2016).
Blog
Discover our latest articles
Keep up with the latest topics on digital marketing, with a special focus on inbound marketing, content creation, SEO, and social media adapted to the education ecosystem.