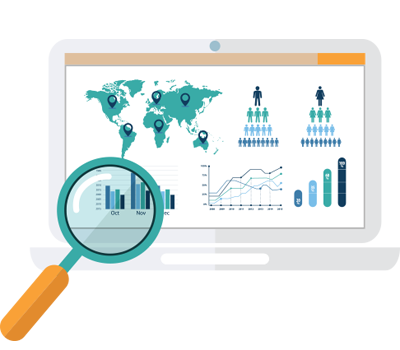 Tired of
managing a multitude of platforms, systems and tools?
With HubSpot, your educational institution will have all in one platform, as it includes a CMS, CRM, email marketing tool, social scheduling tool, SEO tool, Ads tool, chat tool, and analytics for all of the above, among other features.
We are a HubSpot solutions partner helping Higher Education Institutions grow through the implementation of Hubspot marketing, sales, services and operations.
HubSpot implementation services
How can HubSpot help a Higher Education Institution?
Implementing HubSpot in your school or university means you will have centralized data, and improve communications. Your teams can save time and effort by changing the way they manage all the marketing and admissions activities. This will allow you to scale without having to scale resources.
With HubSpot, you can handle everything in one place, with a CRM that can be customized to your institution's needs. From HubSpot, you can integrate your calendar, manage social media, use marketing automation and email marketing, create reports and dashboards, and manage your sales process, among many, many other things.
How does HubSpot onboarding work?
Our biggest goal is to tailor a CRM that meets the exact needs of your institution, meaning we will help you make the most out of the platform, save time and achieve the outcomes you want.
After you've decided to adopt HubSpot as a solution, the next important step is to figure out how you'll use it.
To kick start, we will help you create unique landing pages, email templates, forms, and contact properties, among other automation needs you might have, and we will teach you and your teams how to personalize HubSpot to your specific needs.
From the initial training to the more complex tasks, we will make sure you'll end up the onboarding with the necessary tools and skills to make your institution grow.
Note: Onboarding can be done by HubSpot or by a HubSpot partner. Usually, when it's done by a partner it can be more customized.
Can I use HubSpot for academic admissions?
Yes, you can.
You can set up your admission funnel directly on HubSpot. There, your admissions team can answer all the inquiries gathered from landing pages or inquiry forms.
Additionally, HubSpot provides exhaustive and thorough details about every contact, giving your team the capacity to check the pages they visited on your institution's website, and all their interactions with your team's emails and social media.
How long does it take to implement HubSpot?
Usually, HubSpot implementations can take between a month and a half to three months to be 90% implemented, however, these timeframes can vary according to your institution's specific needs and how custom you need it to be.
Around the six months mark, we evaluate your HubSpot to make sure everything is running well and to check any potential gaps or underusage's
The technical part usually takes just about 15 days and after this time your team is ready to start using HubSpot and its tools.
Note: For HubSpot implementation, you can use a variety of resources such as HubSpot partners, HubSpot, HubSpot Academy, and HubSpot Knowledge Base.
Do I need IT resources to implement HubSpot?
HubSpot is a very user-friendly platform, so the need for IT resources is very low, and used mainly for domain connections.
In case your institution needs to integrate with other systems, the need for IT will grow, however, this necessity can be overcome by using some existing connectors on HubSpot App Marketplace, where you can find ready-to-use integrators.
Blog
Discover our latest articles
Keep up with the latest topics on digital marketing, with a special focus on inbound marketing, content creation, SEO, and social media adapted to the education ecosystem