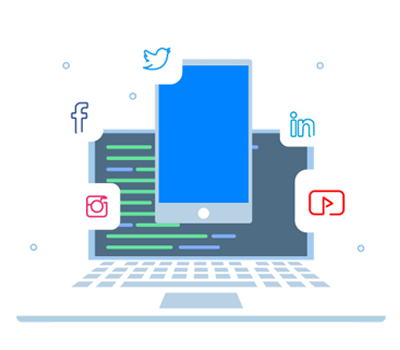 Does your school invest in social media but doesn't get the expected results?
Social media presence for schools, colleges and universities is getting more important by the day, as long as it developed with specific goals in mind. The advantages are obvious: Not only do they allow you to be closer to your students and prospective students, but they are also a great channel to distribute relevant and engaging content (not the "Me, myself and I" content). We build well define content strategies across platforms that add value and grow enrollment
Services
Our social media services
Strategy creation and implementation
Post creation and scheduling
Social media statistics and trends
Facebook
There are 2.38 billion active users globally. (Facebook, 2019).
Facebook reaches over 60% of internet users (Facebook, 2019).
74% of users say they use Facebook for professional reasons (Hubspot, 2017).
Facebook business pages are used by more than 80 million small businesses globally (Facebook, 2018).
Instagram
71% of Instagram users are under 35 years old (Statista, 2019).
Instagram is used by over 500 million people daily (Oberlo, 2019).
Ads served on Instagram can reach more than 849 million users (SocialMedia Today, 2020).
On average, Instagram users spend 53 minutes a day on the platform(Oberlo, 2019).
LinkedIn
LinkedIn is the most effective social media platform for sharing content and ensuring engagement (LinkedIn, 2017).
LinkedIn has over 500 million active users (Wordstream, 2018).
39% of LinkedIn users have a premium account (LinkedIn, 2017).
40% of platform users access it every day (Omnicore Agency, 2018).
Social media usage
Articles, videos, and images are the 3 types of content that generate the most engagement on social media (BrizFeel, 2018).
97% of marketers use social media to reach their audiences (Clutch, 2017).
In 2018, Facebook was used by 2 million companies to serve ads (Hootsuite, 2018).
There are over 2.77 billion social media users globally (Statista, 2019).
Services
What we do at Latigid
Discover the services we provide to our clients in implementing inbound marketing strategies.
Blog
Discover our latest articles
Keep up with the latest topics on digital marketing, with a special focus on inbound marketing, content creation, SEO, and social media adapted to the education ecosystem