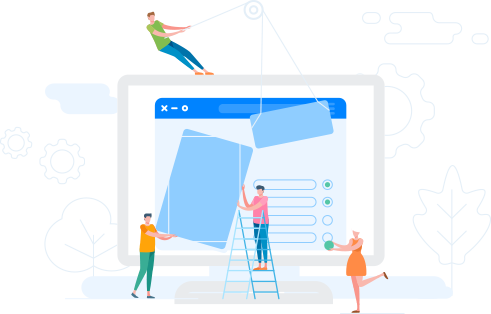 Is your website driving enrollment 24/7?
Your web presence should go beyond a static showcase of your institution. It must be working for you and your students. One size fit's all approaches no longer work. Deliver personalized content to your prospects to facilitate their enrollment journey. Help them find what they are looking for. Your website should be turning 3%-7% of its visits into leads.
Provide your current students a customized experience and open up communication channels that meet their needs and allow you to listen.
Our website, blog and landing pages services
Wireframe creation and design
Development and implementation
Websites and blogs statistics and trends
Websites
57% of users do not recommend companies whose sites are not optimized for mobile (Sweor, 2017).
Sites that take less than 5 seconds to open have 70% longer viewing sessions (Google, 2017).
73% of people dislike and avoid pop-up online advertising (HubSpot, 2016).
71% of users looking for B2B services start their search with generic terms (Google, 2015).
Blogs
55% of marketers say creating blog content is their priority to generate traffic (Hubspot, 2018).
More than 3/4 of internet users say they read blogs regularly (Quoracreative, 2019).
43% of B2B marketers say blog articles are the most important form of content (Social Marketing Industry Report, 2017).
23% of posts shared on social media include a link to a blog article (Quoracreative, 2019).
Blog
Discover our latest articles
Keep up with the latest topics on digital marketing, with a special focus on inbound marketing, content creation, SEO, and social media adapted to the education ecosystem