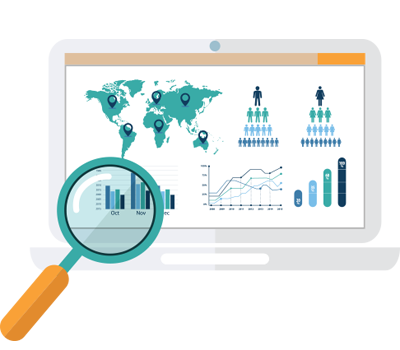 Manage all your student engagements and messages from different platforms in a seamless way.
As your Institution keeps growing, personalized and fast resolution of student interactions becomes more difficult, and you risk missing customer issues that should be communicated across multiple teams.
At Latigid, we align data across business functions in one CRM platform. We use automation to keep your teams operating from a single source, and your customers delighted making sure no single interaction gets left behind.
Our customer service services
Hubsport service hub implementation and onboarding
Implementation of self-service services
Customer service statistics and trends
CRM (Customer Relationship Management)
The CRM market is the fastest growing in software today, expected to reach $80 billion by 2025

(Beam ,2021).
The average ROI on CRM is $8.71 for each dollar spent (Nucleus Research, 2021).
92% of companies already use databases to store customer information (GDMA 2021).
87% of people say the biggest benefit of a CRM is improved sales (Beam, 2021).
Customer Service
Globally, 54% of all consumers say that they have higher customer service expectations than they did just one year ago (Microsoft, 2021).
48% of consumers expect specialized treatment for being a good customer (Accenture, 2021).
52% of people around the globe believe that companies need to take action on feedback provided by their customers (Microsoft, 2021).
77% of customers say they are more loyal to businesses that offer top-notch customer service (Zendesk, 2021).
Blog
Discover our latest articles
Keep up with the latest topics on digital marketing, with a special focus on inbound marketing, content creation, SEO, and social media adapted to the education ecosystem