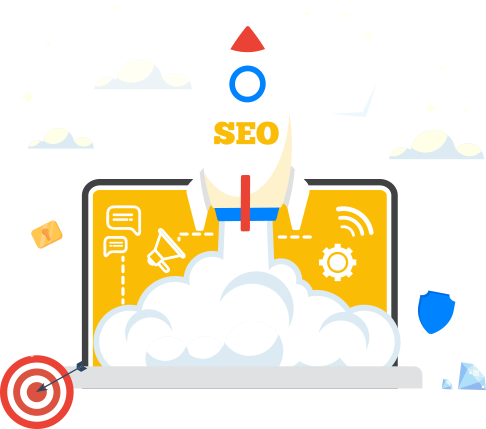 Your Higher Education Institution's website doesn't appear on search engines?
This means that your website needs to be optimized for search engines, in order to increase the organic traffic generated through Google, Bing or Yahoo. For this, we implement on-page and off-page SEO techniques that allow you to improve your institution website's ranking in search engines, based on keywords searched by your potential customers and relevant to your company's growth. Talk to us and find out:
How to optimize your domain.
How to generate more organic traffic.
How to create SEO optimized content.
How to choose and how to use your keywords correctly.
Our SEO services
Organic competition analysis
SEO statistics and trends
Organic searches
Google is responsible for 94% of all online traffic (Web Presence Solutions, 2017).
70% to 80% of search engine users click on organic results only (MarTech, 2018).
Organic SEO is about 5.66 times better than paid ads on search engines (New Media Campaign, 2018).
61% of marketers say improving SEO and their organic presence is their top priority (Hubspot, 2018).
Optimize conversion rates
Only 22% of companies are satisfied with their conversion rates (Econsultancy, 2016).
The top position in desktop search engine results has a CTR of 34.3% (Advanced Web Ranking, 2015).
The average ecommerce conversion rate is 2.04% (Growcode, 2020).
90% of users still haven't decided on a brand before starting their search (Status Labs, 2018).
Mobile searches
70% of global internet traffic comes from a mobile device (CIODive, 2018).
Users consume 69% of their media time on a smartphone (ComScore, 2017).
Millennials already spend more time on their smartphones than watching TV (ComScore, 2018).
42% of mobile usage involves search engine searches (Google, 2017).
Local SEO
82% of users search using the term "near me" (Search Engine Land, 2018).
There has been a 900% increase in searches that contain the term "near me tonight/tonight" over the past 2 years (Think with Google, 2018).
61% of users are more available to hire a local business if they have a mobile-optimized site (Junto, 2019).
30% of mobile searches are related to locations and 28% of searches for "near places" end up in a purchase (Google, 2016).
What is SEO and why does it matter for my university?
Search engine optimization (SEO) is the process of improving a website's ranking on search engines. This will increase its visibility when people search for programs and services related to your institution on Google or other search engines.
The more visibility your website has in search results, the more likely you are to gain attention from prospective and current students to your institution.
Does my University need SEO?
Short answer, yes, your University should be investing in SEO.

SEO allows you to improve your institution's website traffic without having to pay for every click, unlike Pay-Per-Click Ads (PPC).

When you're using PPC Advertising, you will have to pay for every click that comes to your website, however, if your institution's website is well-positioned organically in the search engines, this traffic will be free (even though you will have to invest in optimizing the website for SEO) and won't stop when the ads are turned off.
Why does SEO take time before you see the benefits?
Because there is no longer an easy method to manipulate the system, SEO takes time. Search engine algorithms have improved to the point that they now focus on providing consumers with the most relevant and high-quality results depending on their search query.
When companies started implementing SEO tactics, all it was needed was to stuff the page with your keywords everywhere and refer to as many links as possible. Fast forward to today, things have changed a lot, and using methods like those in 2022 is likely to cause considerably more harm than good in the long run.
What is the ROI of SEO for higher education?
What would it mean to your institution if you came up as the #1 suggestion when your prospective students were looking for you?
For example, 10000 people search for "digital marketing master" every month (not considering those who search for slight variants, like "ma digital marketing").
Being the first results on Google would bring around 3430 people to your institution's website every month just from that specific keyword. If just 1% of those visitors enrolled in your university that would mean 34 students for that course just from SEO alone.
Now imagine showing up on the first page of Google for every program you have and the impact that would have on your university revenue.
Blog
Discover our latest articles
Keep up with the latest topics on digital marketing, with a special focus on inbound marketing, content creation, SEO, and social media adapted to the education ecosystem